Coastal consistently seeks out and acquires the latest methods and technologies available to enhance the quality of our services. With the changing face of healthcare in the arena of infection control, Coastal has acquired the Zimek Decontamination System as a way to meet that challenge. Zimek is a specialized new generation biohazard decontamination system that safely, quickly and completely delivers an unprecedented disinfecting process to eliminate harmful environmental contaminants such as Influenza A, MRSA, VRE, Hepatitis C, and other infectious viruses and bacteria found in almost every indoor and vehicle setting.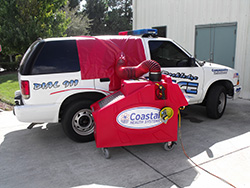 Coastal uses this state of the art equipment to routinely run each ambulance through the decontamination processing once every 30 days and each time an ambulance is exposed to a gross contamination, a patient transport with bloodborne pathogens, communicable disease processes, and/or bodily fluid exposures.
In addition to our own internal infection control schedules, we offer Zimek services to the community as well. We believe that there is a benefit for Zimek services in several areas in the community such as in schools (particularly locker rooms), daycare centers, nursing homes, and various other health care providers. Where people gather so do bacteria and viruses.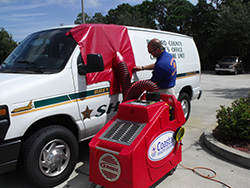 Currently we have been providing the decontamination services to our local Law Enforcement agencies in Brevard County and we invite others interested in obtaining these services to contact us for more information.