Seasoned, Professional Ambulance Service
As Brevard County's exclusive provider of non-emergency Advanced and Basic life support ambulance service, Coastal Health Systems of Brevard makes important connections every day for the citizens of our community. Since 1988 our staff of trained professionals has safely transported hundreds of thousands of patients to and from healthcare providers here in Brevard County and across our state and nation. Every day of every year, Coastal is on duty and playing a key role in Brevard's medical transportation system.
National Accreditation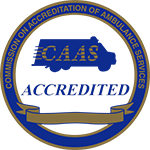 In our continuing efforts to maintain the highest level of excellence, Coastal was nationally accredited by the Commission on Accreditation of Ambulance Services in April 2006. In 2021, Coastal will be awarded its fifth re-accreditation and remains one of only nineteen ambulance services in Florida to achieve this accreditation, considered to be the gold standard in the ambulance industry. While difficult to meet, the standards that must be met for this accreditation demonstrate Coastal's steadfast dedication to the community and its partners in quality.
Vision for the Future
At Coastal "Quality" is a benchmark for day-to-day performance. Coastal believes quality
must be measured in many different ways, from patient surveys, on time performance
measures, to clinical indicator reviews and patient care report accuracy just to name a
few. Coastal's franchise agreement with Brevard County mandates very specific performance parameters including one that establishes a minimum of 90% for on time performance.
Exceeding that requirement every year, Coastal's on time performance averaged 97% over the past 10 years. Additionally, patients responding to Coastal's patient satisfaction survey have consistently rated their transports above 3.8 on a 4.0 matrix rating scale. Coastal takes performance standards very seriously and closely monitor how that performance meets the expectations of its patients, healthcare partners and county leaders.
Community and Healthcare partnerships.
Coastal Health Systems is a truly unique not-for-profit organization in partnership with Brevard's hospitals and our County's leadership. Operating under the vision and guidance of a Board of Directors with members from Brevard County's hospital systems and with the important oversight of the Board of County Commissioners, Coastal must meet the highest professional and service standards and remain able to respond to the needs and vision of the county's health care and emergency services professional's alike. Coastal exemplifies the level of collaboration that exists within our community to deliver the high quality of service that our hospitals demand, our county leadership expects and our citizens deserve.
For today, for the future, for our community, Coastal makes Connections for Life.